Bulk Recycling

Planet Recycling are a licensed waste carrier registered with Environment Agency providing cardboard/paper recycling services to a wide range of companies.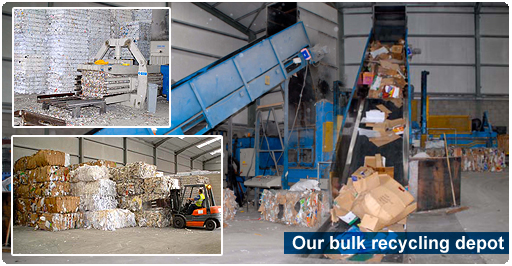 Our fully authorised recycling facility based in Liverpool is dedicated in helping you dispose of your cardboard/paper in an environmentally safe manner. We have dedicated containers and machinery for the collection and sorting of cardboard/paper, Once the material is sorted it is then baled and sent for reprocessing.
Small or large containers available for cardboard/paper
Specialist containers for the print industry
Scheduled or on request collections
Baled or loose
Deliver to us
All material weighed
Rebates available for large quantities
ISO 9001 accreditation
A duty of care waste transfer note will be issued to cover you for all collections of cardboard/paper. We can supply reports which include weight tickets on a weekly, monthly or annual basis.
By diverting material from landfill this will reduce your waste disposal costs and help with the environment.
Click here to request a free, on site survey or call 0151 922 6668.